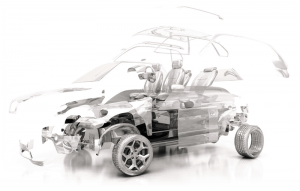 Automobile sales took a steep downturn in July after numbers took the worst hit in the last 19 years. According to experts, "the worst is yet to come in the auto sector". This crisis has already resulted in the loss of more than 15000 jobs after 286 dealership outlets were forced to shut down in the last 18 months. There are many reasons for this downfall suggested by industry experts. Some of the reasons include consumer demand and liquidity issues as automakers are pushed to transition to newer technologies which makes their products more expensive. Another major reason being sighted is the crisis in Non Banking Financial Companies and the impending liquidity squeeze resulting in fall in consumer confidence.This is primarily affecting sales of passenger cars.
Two wheeler and three wheeler sales have also shown significant decline in July 2019. Sales are supposed to have dropped 19% according to data released by the Society of Indian Automobile Manufacturers on 13th august 2019.
The last biggest decline in domestic auto sales was recorded in December 2000, when the numbers fell by 22%.
On top of the ongoing crisis, the government has made it mandatory to upgrade all vehicles to meet the Bharat Stage VI emission norms latest by 2020. The cost requirement to upgrade these vehicles has increased manufacturing cost thus companies are also forced to sell at a higher price to the end consumers. It was observed, by a senior employee of one of the vehicle manufacturing companies that a recovery from a cyclical downturn is possible later on a discount push that stems from rising inventories. But this time due to the compulsory upgradation norm, this also won't be possible.
Two major examples can be seen in car manufacturing giant Maruti Suzuki and two wheeler manufacturer India Yamaha motors. These two companies have launched some vehicles with the BS VI emission upgrade, causing a difference of almost 10- 15 % in price as compared to non upgraded variants. Maruti found out this was especially true for its diesel vehicles, owing to which it has shut down the manufacture of diesel vehicles from April 2020.
Another hurdle awaiting the two and three wheeler industries is the expected compulsion to convert all fuel run vehicles to battery powered engines by 2023.The proposal was called "ill timed" by Bajaj Auto's Managing Director Rajiv Bajaj.
One more reason stated is the failure of consumer interest to convert into purchase. The latest trends show better numbers in the sales of the used cars industry than the new cars.The sales in used cars industry has overtaken the new cars at 4lakh more sales last year in 2018.
"Our feedback is that customers are not coming into the showroom and whoever is coming, is taking a long time to convert to a sale. This downturn is not purely cyclical because cycles don't last this long and something else also has failed. The costs have gone up and the incentive for a consumer is low and there is a need for external intervention to kickstart the growth cycle," Vishnu Mathur, SiAM Director General said. 
Even truck sales have suffered due to the new axle load norms issued by the government. After the issue of this norm, sale of commercial vehicle has also gone down.In response to the depression in sales, Ashok Leyland closed its pantnagar unit for a few days hoping it will have a positive effect on production.