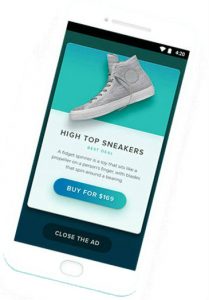 Mobile Advertising is not that old as it was introduced in 1994, many years later the cell phones were put ahead in the commercial market. Short Messaging Service, which is famously known as SMS it the first form of mobile advertising to become decently popular.
Ever since the mobile became a platform of advertisement, it has then thrived at an increasing rate in the technology market. The further aid was given by the introduction of smartphones. Texts, video, audio, pop-up advertisements, banners are some of the tools which encompass different forms of mobile advertising now.
Even the advancement in mobile advertising has significantly grown to an extent that traditional mediums are now taking a back seat. Marketers today are indulging in digital advertising, particularly mobile-phone are growing extensively. To give a better picture of the mobile advertising world, the following are some of the points explaining the importance of mobile ads and the booming industry.
Cost Effective
Having seen the traditional counterparts, mobile advertisements are rather cost friendly. Unlike money spent on physical assets in other forms, mobile advertisements save a good dollar if compared. Furthermore, it is a far effective method than other mediums as well.
Reaches Target Audience
One of the advantages mobile advertisements is that mobile users carry their phones with them all the time. With this, the marketer can reach the target audience and get their attention without much efforts being put in. This kind of attention can possibly lead to unrestricted publicity by the user which again will be beneficial for product and services marketed.
Consumer Database
Mobile advertisement is a good way to fetch the data of consumers who allow receiving advertisements and their notifications, eventually adding them to consumer retention. While studying this integrated database and making action plans, a marketer can fetch in good loyal consumers by offering them deals and discounts.
Time and Location
As the case of other platforms, mobile ads do not depend on time and location of the user.this is because mobiles have become one of the necessities of people. Advertisements can make it to their customers at any given time regardless of their location.
Personal and closely acquainted:
As said earlier, since the users have their phones with them around the clock, it makes it a very intimate and personal property of them. Therefore, a potential customer may consider paying for a product/service that appears on his or her phone rather than other mediums.
The Growth
Market Research, suggests the growth of mobile is substantial enough making billion dollar business in the recent years. It has not shown any sign of stopping with better leads in predicted in 2018. More than 50% of internet consumption is said to be through phones.
It must have got clear after going through all above points that mobile advertising has become the most influential factor in today's date. It's onwards and upwards the mobile advertising is capturing the adversary world.