Biotechnology companies are thriving all across the globe, they are emerging as current development in managing several biological modifications. Significant capital in biotech comes from pharmaceutical, medically performing devices and certain kind of diagnostics. Consequently, various companies are growing in number and enhancing these techniques throughout the globe. Let us have a look on Top biotechnology companies of the recent era.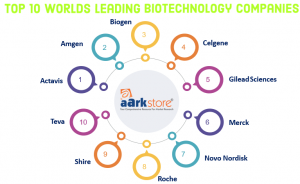 Roche: Roche is in news since 1896. It grew simultaneously within the first few years and is one of the top 14 biopharma companies to look for. Additionally, Roche is in the front with cancer research and treatment, along with the creation of medicines to prevent unusual cancerous growth. It is a leader in tissue diagnostic cancer therapies, cites recent biotechnology market research reports. Certain researches are also aiming at ophthalmology and neuroscience. It is currently working from its base in Switzerland.
Merck: Merck & Co. is a worldwide conglomerate producing prescription medicines, vaccines, therapies on animal and human health care. The core functions include medications on diabetes, cancer, hepatitis, and certain metabolic diseases. As global pandemics is on the rise, Merc is managing and making contributions to deadly epidemics like Ebola. Biotechnology market research reports are even making the industries aware of certain diseases, with help of such biotech giants. Furthermore, Merck is on the news for a 43.2 billion dollars in recent market research reports, with asset counting of $98.3 billion. The company is running in New Jersey, since the year 1891.
Johnson & Johnson: The pretty famous company also rules the list as one of the top biotech company. It is serving mainly as a multinational conglomerate with a base of medical devices, pharmaceutical, and consumer packaging products. Alone in the US, it operates with distributing 175 kinds of drugs with brand names like Tylenol, Mortin, and Sudafed. Additionally, it focuses on side segments of biotech areas like neuroscience, oncology, infectious, and immunology. Technology market research reports claim Johnson and Johnson's popularity is looking for a wide reach beyond certain limits. Its headquarters is in New Brunswick, New Jersey.
Amgen: Amgen is trying to push limit by securing a spot in one of the Top biotechnology company. Market research reports are pretty sure about the company being the sought-out leader in coming years. It is performing researches on new medicines for human therapeutics, including cellular and molecular biology. Additionally, it even markets certain recombining protein therapeutics which can aid in cancer care and inflammatory diseases. The company is promising new elements of kidney diseases, rheumatoid, and serious bone diseases. Technology market research reports are widely promoting the advancements of Amgen, with its headquarters at California.
Consider any medicine which has its roots form biologically modified organisms, it falls to biotechnology. The industry is constantly shaping itself beyond limits to help the world contain biological threats. Ordinarily, these multinational conglomerates are providing enough grasp with help of market research reports ensuring the development processes of tackling deadly diseases are up to the mark.