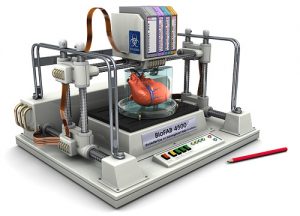 In a world where humans are incapable of building a cell from the scratch, it is possible to simply "print" an entire human organ within a time frame of about 12 hours. Seems infeasible? That is why people are saying that the future of bioprinting is here!
From woodblock printing to the press, the field of lithography has seen great advancements. Currently, 3D printing technologies are in the buzz have garnered a good amount of traction for their contribution to various industries of the global market. Healthcare is only the next. The bioprinting industry market has enabled us humans to use biocompatible materials, cells, and their supporting components and build an entire and fully-functional human organ. Bioprinted organs have various applications in the current day
They used in the field of regenerative medicine to form organs suitable to transplantation. Healthcare market research reports say that this has greatly reduced the chances of the patient's body refusing the organ.
They can be used for a high-throughput processing and production of tissue models for research
Complex models and protein interactions can be constructed using this technology. So, instead of animal models, drug discovery and toxicology studies can happen on 3D bioprinted material for more reliable results.
The global bioprinting industry market is seen to be highly promising with more possibilities to be unveiled in the near future. But it is interesting to note that this advanced a technology is based on the simple concept of layer-by-layer printing to form a 3D structure!
Market research reports say that the origins of 3D technology and known to be in the 80s. Bioprinting, like any other 3D printing process, is additive in nature. Successive layers of a material are amalgamated to form an entire three-dimensional structure. Complex geometries of the biological components are no hurdle in the production process but may make the process more time-consuming.
Biologically inspired engineering has been put to use to solve a number of technological problems and not just healthcare. So, insights from building an organ may be helpful to various other sectors, surprisingly including the manufacturing of airplanes! And, on the other hand, the technology of 3D printing is itself inspired by biological processes like the development of an embryo.
Bioprinting is already an alternative to many traditional approaches and biotechnology market research reports say that the paradigm is soon expected to shift to in-vivo bioprinting as a developmental goal. The difficult challenges need to be addressed increasingly to realize the full potential of 3D bioprinting.