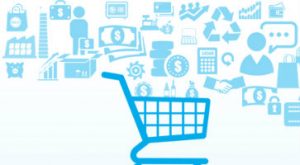 Traditional brick and mortar retailers are facing a tough time competing against digital retailers who have engulfed huge pie of the retail market. Because of declining customer base and dwindling profits, more and more retail stores are closing their shutters. As more and more consumers moved from physical retail stores to digital stores; making purchases with the tap of a finger, the retail game has revolutionized.
Due to the tremendous growth of IoT and alter in shopping trends, the customer experience has become more important than ever. This led to explosive growth of ads from retailers inviting you to try their apps. There is a huge competition in creating the next big thing, which will offer the best shopping experience for the customers in the digital space.
Gratitude towards the internet of things (IoT) and its influence on connecting the digital and physical worlds in ecosystems of devices like computers and smart phones, the world of retail may never be the same again.
With useful insights from IoT devices, brick and mortar retail stores are now in a place to confront the traditional ways of doing business. Physical stores are now offering more personalized experiences by combining digital elements into the shopping journey.
Dawn of a new retail landscape:
Reputable retailers are now using both physical and online stores for a flawless shopping experience, in order to survive the stiff competition in today's retail industry. From social media to TV advertisements and in-store promotions, IoT has assisted customers to cooperate with their business however and whenever it suits them. Internet of Things allows physical retail stores with the same capability for personalized and data-capture as digital stores.
Internet of technology will gradually modify the way the consumer shops and the way the retail stores do business. In future, shopping malls will be filled with sensors, from smart barcodes that provide customers with product insights to digital ad screens that make use of facial detection technology.
Improved shopping practices for customers:
IoT has offered retail stores with better opportunities to customized in-store shopping experiences for consumers. When Internet of Things is combined with customer's smart phones, it provides access to helpful product information and can send customized offers for the customers.
For example, users can scan the products to get extra information regarding available sizes or colors. They can as well sign up for SMS notifications of special deals while in-store. Internet of things devices as well helps staffs to offer better customer service. A sensor placed near the cash counter can be programmed to trigger an alert to an employee's smart phone once a consumer has been positioning there longer than 30 seconds, as per a market research reports.
Internet of things devices assist the retailers to offer faster help to customers thus improving the whole shopping experience.