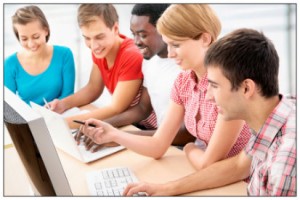 According to news daily, 65 percent of grad-school students work in a setting that has not been invented until now. Preparing them to succeed in this shifting economy is a challenge ongoing for several educators. One of the professors believes that market research reports form an important tool in exposing the undergraduate students for tech-based and innovative career opportunities.
Majority of students these days are attracted to healthcare, and other technical jobs, and less aware of the traditional workings. In the journey of learning about varied career paths, they are often given access to portals or academic institutes with rich market research on work profiles and types of job, be it for corporate executives or something very professional and vocation etc.
What Universities are doing these days is getting out of the traditional outlook of only bookish libraries and bringing more to the campuses. These are applying more of science and technology to improve reach of the students to data house of information bang, which can leave a person astounded by the amount of material and matter of data floating in soft copies or digital medium.
Competitive Research for Applications
Students who seek scientific and industrial application can refer to relevant market research, and look for career breakthroughs easily. It also gives them idea as to what the professional mean to them, where does it stand, how much earning can be made, and what are the trends. It gives a 360 degree view to career prospects to the people be it in any field.
What are the tools and diagnostics, the market environment, popular segments, and important roles, key players are also offered. As technology has integrated itself in most of the job fields, the students can also access tech-related reports to understand which of these are used in combination over different industries, finding useful research topics and potentials within few clicks or glances.
Disseminating Credible Knowledge
There are several ways to look up and learn information. The applications on computer, desktop, devices, smartphones etc. are the most common besides printed copies, expert's opinion, and other primary or secondary resources. The goal is to introduce data to students in the way they like and on the platform that is most comfortable for them. Students have to know where they must go to get the findings, and making it easier for them through cloud computing or internet database is a novel method to do so.
Internet search engines do half the tasks, but pulling out factual and credible data is what the students must be capable of. Many data hosts make it simpler by citing such sources that are real and based on complex research than mere circulating opinions or rumors. This helps them focus on real knowledge, and customize the study patters according to their schedules.
Comprehensive Industry Insight
University libraries work on limited budget, however, market research is established to serve a wider value, like giving important resources a library cannot such as scientific journals from around the world, and newspapers in all possible languages etc. Also, one can relatively get home access to the data bounty if they are choosing a more connected network to the database. Thus now even Universities are realizing the need to provide wide access to knowledge so that people do not have to look elsewhere.
Real-world info and academia exists out in open today, and students can relax and seize the right opportunity when they want to. Access to research agencies or websites is a prolific way making undergraduates have options to their studies. If they wish to purchase a report they can do so or simply refer to executive summaries of the reports. Sometimes other content online are more informative giving vital statistics, forecasts, and trends all laid out in systemized manner.