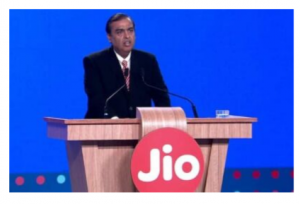 Reliance Jio chairman Mukesh Ambani, has finally announced the commencement of ultra high speed internet broadband JioFibre from 5th September, 2019. JioFibre is expected to range between speeds of 100mbps to 1gbps through landline broadband connection. Ambani made this announcement at this year's Annual General Meeting.
Along with the broadband service Jio will also provide a 4k set top box free. To make the offer even more tempting, Jio is giving away free HD or 4K LED TVs free as part of the welcome offer to annual subscribers.
As part of his speech, in last year's AGM, it was announced that Jio would be accepting pre registrations for jio fibre from Indan households. It received 15 million registrations for residences from 1600 towns. One the basis of this Jio plans to launch the service for 20 million homes.Jio has performed many trials last year and expects to complete the fibre to home rollout in the next 12 months. The Infocomm giant expects to raise its revenue starting from this year onwards. Though this has not come at a small cost to the company. Jio invested 3.5 lakh crore building infrastructure and laying of optic fibre. Along with this Riliance seems set on its path to become a zero net debt company in the next 18 months, says RIL chairman and managing director Mukesh Ambani.  
The landline phone can be used to make voice as well as video calls for free.As part of the bundle of OTT apps that Jio is providing along with the JioFibre connection, voice calls from the landline to any other mobile or landline will be possible absolutely free of cost for life. Video calls using the set top box and the TV screen will also be available as long as the TV is connected to a webcam.
The speculated tariff plan range has also been released.The plans for JioFibre are going to start from Rs 700 and, depending on the services included,may go upto Rs 10,000.An all inclusive plan will also include watching movies as soon as they are released. Jio will allow users to enjoy premium movies on their JioFibre TV screens at the same time as they are released in theatres. This feature will not be available immediately but is expected to start from mid of next year in 2020.
The day JioFire is set to commercially commence also happens to be Jio's 3rd anniversary.