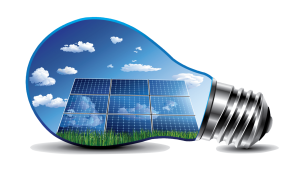 The renewable energy industry is growing apace. With conventional resources receiving a plummet in the current day, clean technology is being looked at as more than an alternative. The globe is aiming at a complete transition to renewable energy-based models. Investments in them are thus gaining a boost and today's common fuels like oil and petroleum are moving out of the picture.
The power crunch is menacing the enlargement of industries across the globe. In such state of affairs, when traditional fuels no longer prove resourceful, renewable sources of energy are being adopted across industries. Rising population and swift development of the emerging markets have amplified the need for energy.
Insights on renewable energy sector:
A variety of trends are affecting the global power industry, including the fact that 80% of primary energy is currently supplied from gas, oil, and coal. Nevertheless, various environmental perks, cost advantages and better accessibility are pushing industry sectors towards embracing gas as the fuel of 21st century, according to a market research. In several ways gas has always been different from oil. Furthermore, gas is better distributed across the globe.
As per the global LPG market, it is the industry that serves the global demand and supply chain more effectively. This guarantees that the cost of gas remains competitive compared to oil prices, which have huge ramification on the global energy sector.
Approximately 1.1 billion people in the urbanized countries intake more than 110 billion BOE/D (barrels of oil equivalent per day) in primary energy, whereas 5.8 billion people in developing countries consume around 140 million barrels of oil equivalent per day.  A Further need of 270 million barrels of oil equivalent per day is required to meet demands of all consumers in the coming future.
This is twice the current primary energy consumption.  Along with the global population predicted to rise up to 9-10 billion from recent 7.1 billion by mid-century, the demand of energy will rise further.
The current scenario:
With the current climate changes and global warming issues becoming pressing concerns, businesses have already started investing in the renewable energy market that will address these problems.
Latest research in the ethylene market spotted growing risks to investors and financial organizations dependent on fossil fuels, which would present chances with industries re-investing their capital towards sustainable energy and additional power-efficient mechanisms. Even if much of it has to do with cost, especially when it is expected that oil rates will increase, it is also predicted that the inexpensive US natural gas will not remain cheap.
Also, the increasing awareness and weather policies would hoist the cost of utilizing coal. Besides, the cost of creating vigor from solar energy, wind, and biomass is estimated to fall in the few years, which is in stark contrast to valuing developments of the oil industry.
Recently, the charging trend of renewable energy is predicted to prolong over the next two decades. The governments rank the importance of putting together incentives and infrastructure primarily which ensure that this shift towards the sustainable energy will continue. With public perception shifting towards more ecological solutions, there is also a bigger potential for political action that will labor in advantage of further pushing the energy & power market more weather friendly substitutes. Additionally, governments are also highly investing in technology and infrastructure, improving public expenditure and rising trade linkages to make sure renewable energy encourages the expansion of the region's financial system.