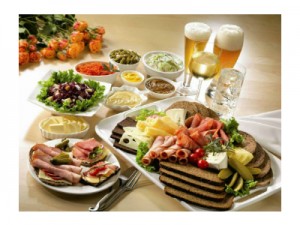 The food and beverage industry is going through a pivotal change as the American market shifts to a more natural and whole food diets. Customers are increasingly scrutinizing nutrition ingredient labels of products. Therefore, they are now opting for grocery products that contain fewer and simple ingredients. Even if gluten – free food stuffs are still popular, consumers have become increasingly aware that gluten free doesn't necessarily equate to guilt free.
On the other hand, Market Research indicate that popularity of meal kits continues to soar as more and more businesses are ready to dole out subscription offerings for consumers seeking convenient home –cooked meals. Similarly, the top three food and drinks trends that are modifying the market are as follows –
Aiming for short and simple ingredient and nutrition label
As per a report, 67% of consumers prefer to shop groceries that include less complicated and short number of ingredients. Groceries that contain labeling of chemical sounding, unpronounceable and complex ingredients are being increasingly avoided by shoppers.
According to a Food and Beverage Industry Report, shoppers now seek products with real food that can be found in a common kitchen. Therefore, this has led key market players like Haagen-Daz, General Mills, ConAgra, and Hershey to rework the ingredients list of their products including chips, chocolate syrups, frozen meals, ice cream and snack bars etc. This trend is also spreading out towards baking goods. Showcasing short and simple list of ingredients has become a marketing strategy.
Gluten free foods are at their all time high
While demands for healthy food products are on the rise, gluten free products growth rate is estimated to fall single digitally. The American sales reached $1.57 billion in 2015, which was an 11% increase compared to 2014 as per market research. In contrast to estimation, however the gluten free products sales have skyrocketed 81% over years in 2013.
The reason for estimated slow growth rate is because; a gluten free label on its own just doesn't cut out for customers anymore. Therefore gluten free products need additional health value for customers to come back.
Meal Kit popularity                     
Meal kits have become a go to solution for urban millennial who want to avoid hassle of meal planning but still want nutritious home cooked meal. More than 150 meal kits have now been sprung up by various well known businesses and brands. Meal kit provision services have developed into a giant USD 1.5 billion market and expected to grow into a multi-billion market in the coming years.